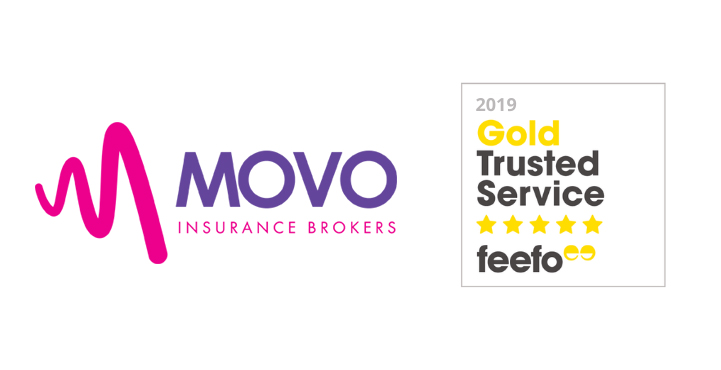 February 2019, Movo Insurance Brokers has won the Feefo Gold Service Award, an independent seal of excellence that recognises businesses for delivering exceptional experiences, as rated
by real customers.
Created by Feefo, 'Trusted Service' is awarded only to those businesses that use Feefo to collect genuine reviews and insights. Those that meet the high standard, based on the number of reviews they have collected, and their average rating, receive the award. A badge of honour, this accreditation remains unique, as it is based purely on the interactions with real customers. As all reviews are verified as genuine, the accreditation is a true reflection of a business' commitment to outstanding service.
Movo Insurance Brokers met the criteria of collecting at least 50 reviews between 1st January 2018 and 31st December 2018, with a Feefo service rating between 4.5 and 5.0, which is fantastic news!
Golan Lambranzi commented: "We're thrilled to receive this award from Feefo. It recognises how hard we've been working to give great experiences to all our customers, who are the most important judges of what we do. We're committed to delivering the highest quality of service, so it's important for us to listen, understand and respond to all our customers. Feefo enabled us to consistently improve throughout 2018, and now we're looking forward to another successful
year ahead."
Congratulating Movo on winning this year's award, Matt West, CEO at Feefo, commented: "The Trusted Service award has always been about recognising those companies that excel beyond the norm. This year we've seen many remarkable businesses leveraging the full potential of Feefo to provide outstanding levels of experience for their customers – and rightly being awarded our most prestigious accreditation. I'm looking forward to the continual success of the businesses that work in partnership with us throughout 2019."
Feefo is a reviews and customer insights technology company that provides businesses with the tools to collect real, purchase-verified reviews and insights. Working with over 3,500 clients, Feefo ensures that all feedback is authentic, by matching it to a legitimate transaction, in order to increase consumer confidence and enable businesses to make smarter business decisions.
About Feefo
Feefo is a disruptive global technology company empowering brands to make smarter decisions and improve consumer experiences by leveraging the full potential of real customer reviews.
Feefo's cutting-edge review platform is trusted by more than 3,500 brands including Next, Vauxhall, Expedia, JCB and Thomas Cook, who rely on it to supply smart insights that transform their ability to market, sell and build more rewarding relationships with customers.
A trusted partner of Google, Feefo's technology and consultancy team possesses unique expertise and business insight, enabling brands to employ cutting-edge innovation that optimises the delivery of digital marketing and advertising.
For more information please visit: www.feefo.com
About Movo Insurance Brokers Ltd:
Movo Insurance Brokers Ltd are an independent insurance brokerage who are able to place the following classes of insurance:
Commercial
Fleet
Private Insurances
Private Medical
Life Insurances
Cleaning Insurance
Household Insurance
We have grown rapidly since we began trading in April 2010 and now place over 12 million of premium ranging between 90 insurance markets and with 35 staff members across four locations ready to help with just a phone call away.